Magic Link Authentication
Ascend offers the option to log in to an existing account without a password. You're sent a link via email and that you can use to access your Ascend account. Each link is unique and can only be used once to access your account. For subsequent logins, you'll have to resubmit your request for a one-time link.
🚧

Magic Link Activation

Just a heads-up! Only Ascend can activate the magic link feature and customers don't have the option to enable it on their own. We're here to help, so if you're interested, reach out and we'll get it set up. 😊

Once activated, your users can login using the email associated with their user profile. You can add and/or edit the user details and user email within the Data Service. See Create an Manage a New User.
Logging in with Magic Link
Follow the steps below to login with a magic link. Magic links expire after 30 minutes. If your link expired, reload the Ascend login page and repeat the steps to have a new link sent to you.
Step 1: Initiate the Login Process
Go to cloud.ascend.io and type in the email associated with your account.
Select Send One-Time Link on the login screen.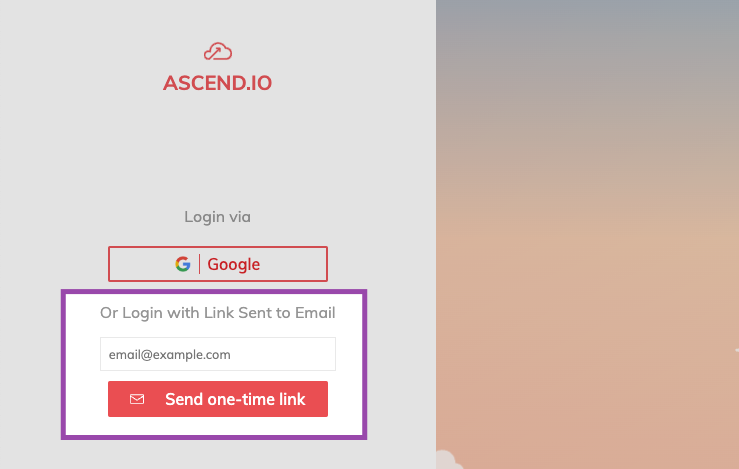 Step 2: Locate and Select the Magic Link
Look out for an email in your inbox that contains the magic link and a time-sensitive one-time token.
Open the email and select Login Here to initiate the login process..
Checks to try if the email with the link doesn't arrive
Depending on network conditions in the email sending infrastructure we use, it can take up to a few minutes for the email from Ascend to arrive. If it's not in your inbox after some time,
check your Spam folder, the email might have been incorrectly classified as spam,

make sure you don't have email forwarding to another inbox set up for the address you use with Ascend and that you're checking the correct inbox,

Make sure your organization's corporate firewall doesn't block messages from Ascend. Your organization's IT team will be able to help you.
Questions?
We're always happy to help with any other questions you might have! Send us an email, ping us on Slack, or chat with us to your right

.
---